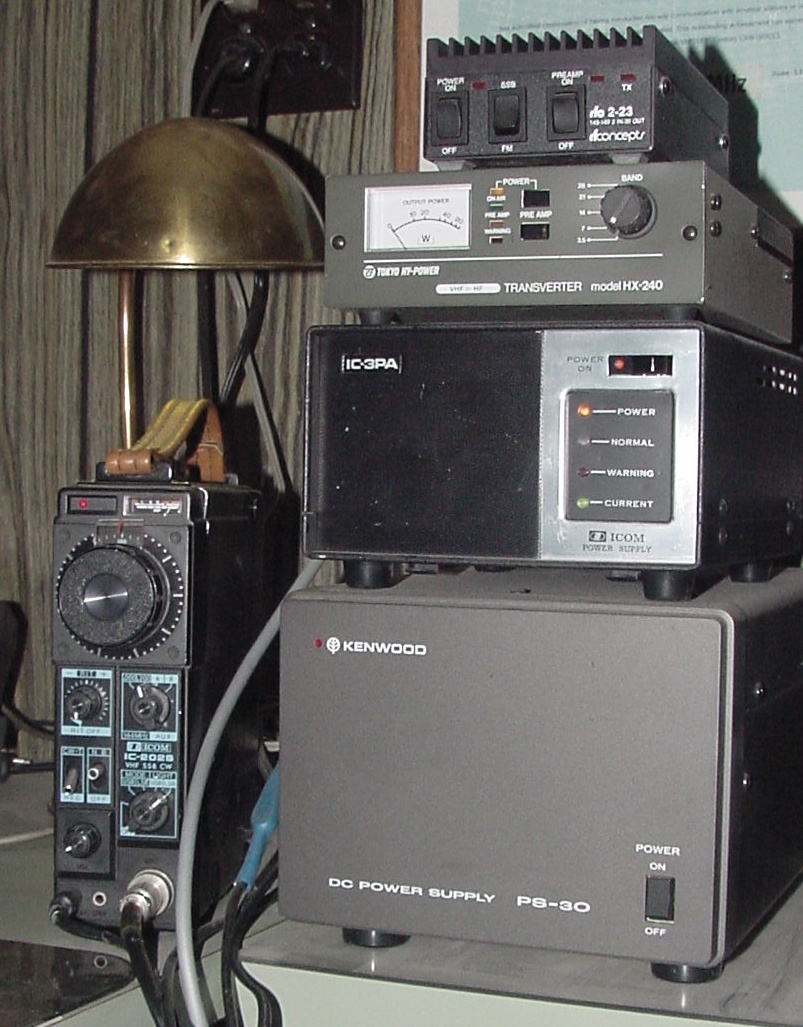 Click on image for expanded view


My "What did you say" Station
Updated 14-FEB-2016


I have a pretty good collection of ham equipment. Having been interested in radio since the age of ten I can still remember fondly looking through the ham magazines and distributor catalogs at all the equipment I would have liked to own someday. Well as time went on, and more gray hairs got added, I was able to collect a great deal of those early dream radios. Some have stayed and some have since left. However for me my most prised radios or radio setups are those that are just different from the norm. They are the type of radios that when you announce the equipment your using it will becomes a bit of an extended conversation topic.

Well one of my oddities is the little setup shown in the picture above. Believe it or not, this is a fully operational 10 through 80 meter and 2 meter SSB/CW station. Let's start off at the far left. That is a very desireable ICOM IC-202S 2-meter SSB/CW transceiver. I say desireable because even after 35 years (built in the late 1970's) this ltttle 2-meter SSB/CW rig is most often searched for as an IF radio for microwave operations. The IC-202S is a very stable VXO tuned unit with 2-3 watts of power output. Since it does not use any form of digital synthesizer it is also a very RF clean radio in both receive and transmit. No receiver phase noise in this baby!

Now about the 10-80M part of the story. Well that little box that sits second from the top of the stack is an HF transverter. As hams we are most often used to transverters that upconvert from lower frequencies to higher frequencies. Albeit this is true if you've been a ham for at least twenty years as transverters are becoming a thing of the past, except perhaps for those into microwave operations. That little box above the power supplies is a Tokyo Hy-Power HX-240 VHF to HF transverter. Yes, it converts a 2 meter transceiver down to all the pre-WARC HF bands. The antenna connection on the back of the IC-202S connects to a like connector on the back of the HX-240. Your HF antenna attaches to another connector on the back of the same transverter. That's all there is. Sensed RF controls if the received signal is to be converted from HF up to 2 meters or if the transmitted signal is to be downconverted to HF and amplified. It even provides a rather hefty 50 watts SSB/CW output. The Kenwood PS-30 power supply is needed to power the whole setup, as even though the transceiver and transverter are physically small, you can't get 50 watts of RF without it drawing a bit of current at 12VDC. The little ICOM IC-3PA was a a latter addition and powers just the IC-202S now. The 3PA was designed to operate some of the early ICOM 2M FM radios in the 1970's. They did make a version called the IC-3PS that was made exclusively for the IC-202/502/402 series radios. It was a taller unit that had a built in Linear VHF power amplifier (Optional Model IC-20L 10W for 2 meters) and a little slide out mount to hold the rig toward one side. The IC-3PS did not have all the circuit protection lights on the front like this 3PA model. When I do see a 3PS for sale they still seem to bring a premium price due to their rarity.

I also added the RF Concepts 2-23 amplifier to the stack, on top, that amplifies the IC-202S 2 meter SSB signal from 2watts to 30 watts output when used for 2M SSB/CW work.

How does it work?

Fine thank you.

During one of my first trial runs I made contact with a fellow in Japan on 15 meters. How appropriate as all these items were Japanese made. The HX-240 transverter was reportedly sold in the USA in the 1992-93 timeframe. Mine has an operating manual written exclusively in Japanese. Tokyo Hy-Power was bought by the Chinese company BaoFeng in 2015, so essentially they no longer exist. I bought mine off eBay many years back and they are also very rare today. So indeed this will be a "What did you say" type of station when I describe it on the air.



Back to my homepage