Before buttoning it all back up I did go through and check all remaining components, except those on the new HV power supply board. Everything else checked out. I originally applied 24VAC to the line cord to verify that all the HV and LV DC voltages came in at 1/10th the expected value once 240VAC was finally applied. It's much safer working with a HV of 200VDC than 2000VDC! You will need to slide a little bit of insulation tubing over the three interlock switch shorting posts to prevent shorting out the DC voltage. The HV and LV voltages checked out fine at 1/10th their normal operating values.
Do not forget to remove the tubing before you button up the internal covers!
Installed the four 811A tubes and screwed all internal cabinet covers back in place.
With the amplifier connected to the 32S3A I retuned all the input circuits per the proceedure in the Collins manual. I did not perform the Tune Meter or ALC Threshold adjustments. I figured if I noticed that there was a problem relating to these areas in use I could always come back and perform those adjustments. On my 30L-1 there are adjustment holes in the top of the RF cage to access those adjustment points. So it would not require case removal in the future if such adjustment is needed.
I knew that the Collins KWM-2A used a slightly different trim ring from the others as it has additional holes under the cover edge for locking type screws. I had a very nice repainted metal trim ring for use when I finished this 30L-1. However, when I tried attaching it I ran into a problem. Collins would add additional metal to the rear side of trim ring to add strength. On the 30L-1 just like the 75S3 or 32S3 units they have flat head screws located about 3.75" each side of front center just under the top cover lid. The ring I had did have these holes, but underneath this particular trim ring some of that reinforcement came to close to those holes. If you go back to the picture of the HV section and look at the top right side you can see the L-brackets on the 30L-1 with mounted retaining nuts attached. Well those L-brackets would not clear the reinforcement metal added to my trim ring! The orginal trim ring I had on this 30L-1 was plastic and it was cracked in half. However, I did have a couple of others that are in need of getting sand blasted and repainted. So for now I am using one of those metal trim rings. I don't think they were from a 30L-1. So I'm not to sure why the differences.
For now I'll use the scratched up trim ring until I can visit a local powder coating business and see about getting a small collection of cabinets and trim rings I currently have repainted. I must say out of all my S-line equipment the 30L-1 trim ring was the hardest to install. Since the 30L-1 is essentially a full cabinet within a cabinet many of the inner cabinet mounting screws will easily hit the trim ring while it is slid on. When I do get a nicely painted trim ring I will be extra careful and SLOW installing it to avoid nicks!
I put on the scratched up metal trim ring and the like new cabinet. Moved it into the shack for the trial run. I have made a few one hour plus QSO with the 30L-1 driven by my 32S-3A transmitter. It has performed flawlessly! I get about 600 watts output on the 312B4 meter on 75 meter phone.
After I had everything back together I did notice the fan was making a little vibration noise. The Collins manual does indicate the fan should be lubed every six months. Yeah right! I did lube it while I had everything open and I knew the fan turned smoothly by hand. Bad bearings were not suspect. Since my fan blades were kinda dirty I did clean them up during the refurbishment. I noticed how easy it was to bend them as they are a light aluminum. Perhaps it was wobbling due to one of the blades being off as a reult of cleaning them.. Opening the final cage cover and slowly rotating the blades by hand, I could use the air openings along the bottom of the cage as a reference point to watch the edge of each blade as it turned. They weren't off by much, but I did do a little treaking so that visually they all lined up against my reference point. Buttoned it all back up and applied power. No more noise!
Before I forget. I did mention the amplifier came with a
extra set
of tubes. I had always figured they were new or good replacements. The installed tubes were all RCA JAN versions. The backup set was four Cetron versions. After looking over the Cetrons I came to the conclusion that I bet they were previous pulls from this amplifier. One of the tubes had a slight caving in of the plate near the top of the tube. So much for an extra set. Lesson learned - "Extra Set" does NOT mean new or even working set! I do think a couple of them may be fine, but I'll need to make a test fixture to verify that.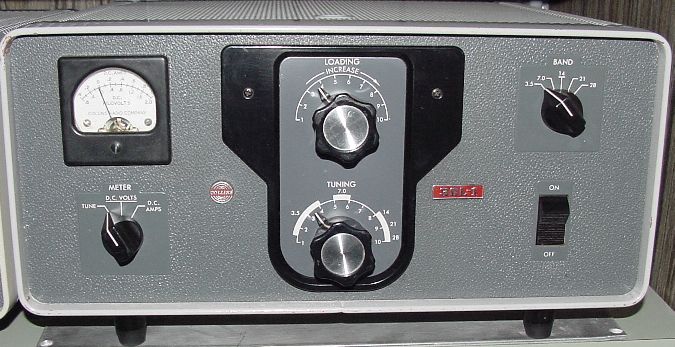 The completed 30L-1 RE. If you look closely you can see the scratches in the trim ring
On to the next project - Don N9OO 26-Jan-2008