McIntosh


Solid-State Blue LED
Meter Lamp illumination


Use In

MR 71 Tuner
MR 73 Tuner
MR 74 Tuner
MR 77 Tuner
MR 78 Tuner
MX 113 Tuner/Preamp
MX 115 Tuner/Preamp
MAC 4100 AM/FM Receiver
MC2105 Power Amplifier (Require Two Sets)


MC2205 Power Amplifier (Require Four Sets)

MC2300 Power Amplifier (Require Four Sets)
MC2505 Power Amplifier (Require Two Sets)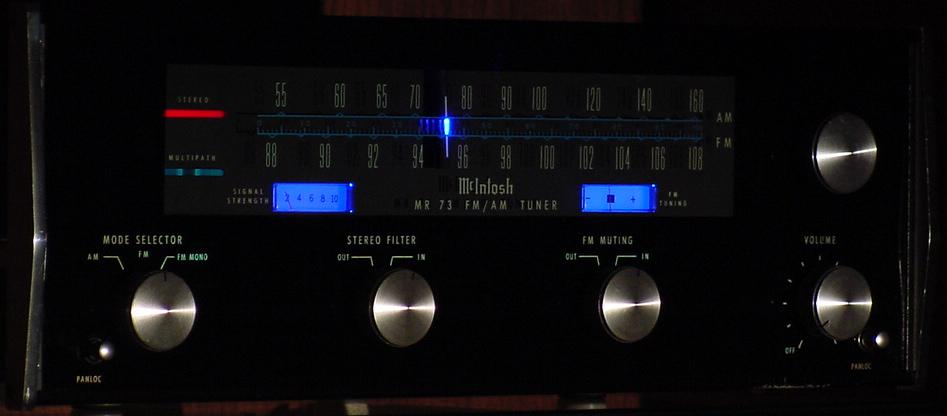 Picture of my personal McIntosh MR-73 Tuner with new meter LED lamps installed. Also notice I have replaced the original dial pointer lamp, which originally used a incandescent bulb with a red gel filter, with a blue LED. It looks so cool! Sorry I don't offer the pointer LED's as a kit.

When I found the need to replace some lamps in my McIntosh MR-73 Tuner while performing a routine alignment I was presented with a illumination revelation! Replacing lamps was pretty straight forward with the exception of the two meter lamps. Over each bulb was wrapped a blue gel filter material that had aged with time. As I tried to remove the filter material it broke apart in my hands from the years of lamp heating. I knew I could find new blue gel material at a local craft store, but I wanted to avoid facing the same problem when a lamp would burn out in the future. I have previously designed LED based lamps for the R.L. Drake 4-Line series amateur radio equipment. That project required blue rear illumination over the wide angle of the frequency display window. I had created special lamps to meet those requirements. Would they work as a replacement for the MR-73 meter lamps. A quick try revealed
excellent
results! So I've decided to build a kit of two lamps which I could supply to the McIntosh user. Although I have only tried them in an MR-73 they should work with many other McIntosh products which have a clearance hole larger than 0.45 inches. This diameter is required to allow passage of the lamp top diffusion lens through any chassis clearance hole. These lamps are designed as 5.0 to 6.3VAC bulb replacements like the #1847 used for meter illumination in the MR-73.
As a replacement for the blue filters I have developed a Blue illumination kit to replace the existing #1847 incandescent meter lamps provided with the McIntosh equipment. The kit consists of two custom manufactured LED lamps designed as plug-in-play replacements for the original #1847 incandescent bulbs. The new LED lamps use the same style bayonet bulb base as the originals. There is no need to replace or add additional gel filters. Simply discard the original gels!
The life of an LED is longer than incandescent bulbs. You will save on current draw! The two LED lamps only require a total of 40mA whereas the original #1847 lamps have a total of 300mA current draw. That's over one quarter amps less current draw from the power supply and negligible heat dissipation from the LED's.



View of Tunning Meter with New LED Back Light


McIntosh Meter Lamp Kit

Two (2) Diffused Lens Blue LED Bayonet Lamps
Full Installation Instruction Sheet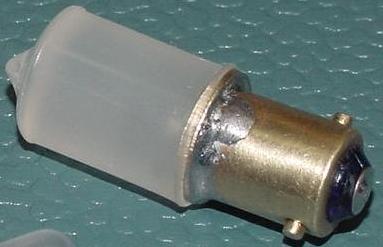 Above is one of the Blue LED Diffused Lamps

Built With A Purpose


These are not mass produced lamps. Each lamp is hand assembled in my shop. The bayonet bases are solid brass. Lamps have a specially manufactured diffusion lens which surrounds the blue LED. This dispersion lens is milled from solid semi-transparent plastic. It is not a hollow plastic covering! By using a solid lens material the emitted light is dispersed a full 360 degrees around the lamps sides and a full 180 degrees toward the top side. The picture below demonstrates how well this custom dispersion lens works installed in the McIntosh MR-73 tuner. The picture is taken from the top of the dial tuning assembly with the dust cover removed.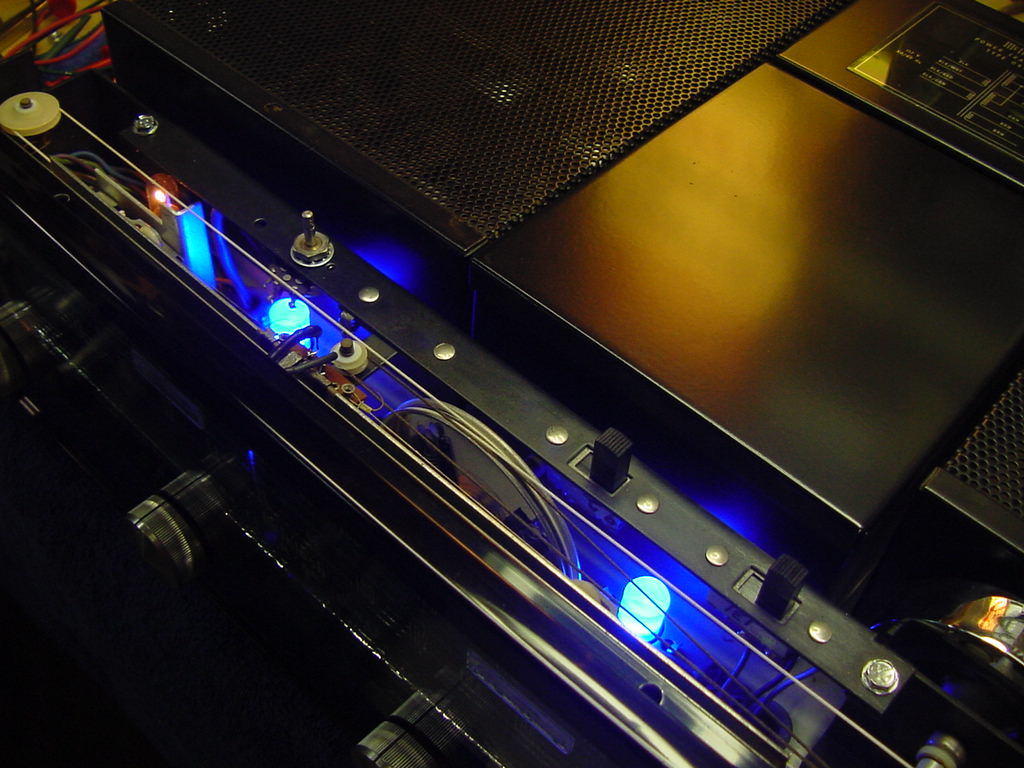 Simple to Install
Installation is straight forward and every attempt was made for ease of installation. This is a direct lamp replacement and can be performed in about 15 minutes.

Ordering

Please Order Using these Part Numbers

PART NUMBER

Used In


Number




Required



Price
(USD)

LPB-MACSET

McIntosh Meter LED Lamp Set
(Two Lamps in Set)

MR 71 Tuner
MR 73 Tuner
MR 74 Tuner
MR 77 Tuner
MR 78 Tuner
MAC 4100 AM/FM Receiver

MC2105 and MC2505 Power Amplifiers (Require Two Sets)

MC2205 and MC2300 Power Amplifiers
(Require Four Sets)





1
1
1
1
1
1

2


4

$22.00
per
Set

LPB-MACIND

McIntosh Meter LED Lamp
(Individual Lamp)

MX 113 Tuner/Preamp
MX 115 Tuner/Preamp





1
1



$11.00 ea


All products and parts are shipped at the rates shown below. There is no quantity limit for these rates. You can combine items from other pages on this site and all will ship together at this one rate! All items shipped boxed.

Destination
Method

Cost
(USD)

U.S.A.

Priority Mail

$7.15
Canada

Priority Mail Flat Rate

$24.95
All Other Destinations

Priority Mail Flat Rate

$33.95
Send Check or Money Order (US Funds Only) to:
D.A. Buska Engineers LLC
4805 64th Avenue
Kenosha, WI 53144 U.S.A.

For immediate processing
we accept on-line orders and payments through
PayPal
when using the Order Cart below. You can change the order quantity if desired when you view the cart during check out. This order cart can be used throughout the many pages on this site so it is not necessary to
check-out
until you have ordered everything you need.
Part Number




Price (Ea)




Range and Radio




Add to Cart



LPB-MACSET

$22.00

McIntosh Blue LED Set


LPB-MACIND
$11.00

McIntosh Blue LED
(Individual Lamp)

User Comments

Man, those blue LED lamps you sell look fantastic! The website just doesn't do them justice. They have a rich neon-like glow, especially with the room lights on.
- Steven J., Parkwille, MD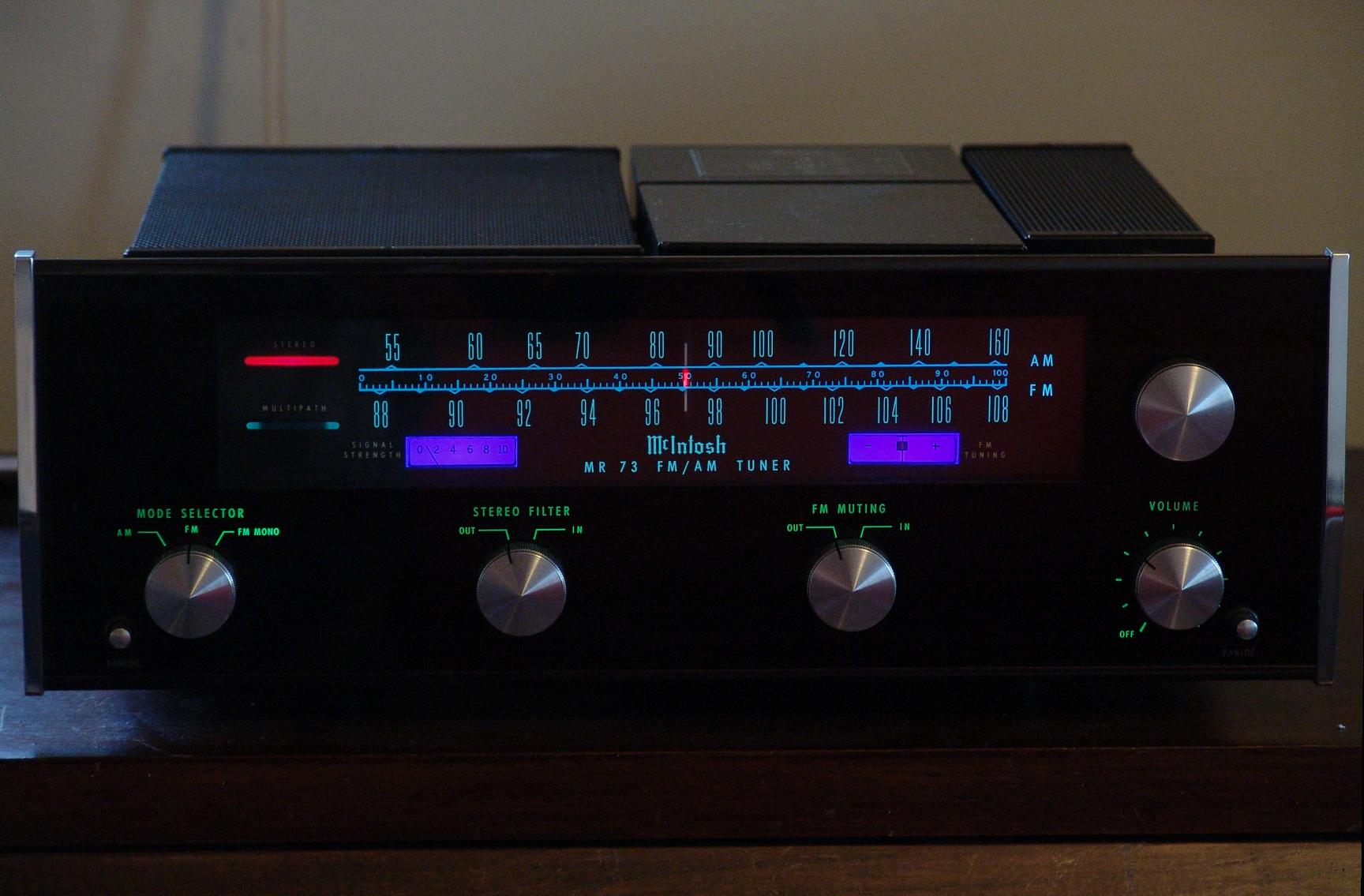 Above picture (Click on picture for enlarged view) was sent to me by Steven J, showing his MR73 using my blue LED meter back lights. Steven has replaced all rear illumination lamps with LED's.

I just installed a set of the blue LED bulbs in my MR78 tuner, and I love them... The lights are very easy to install, especially with the instructions. It did take about 15 minutes, and I could not be more pleased. I had just paid a technician $50 to replace one of the lights and now I have two LED's for about half the cost. - Nathan M., New Harmony, IN

Just a quick note to thank you for your excellent bulb replacement for the meter lights in my MR78 McIntosh tuner. The bulbs arrived in just a couple of days following the order and the installation was actually easier than you described taking all of 10 minutes. Your directions were explicit, concise and accurate. And the result is very gratifying. - Michael S., Stockton, CA






Return to Kits - Mods - Products Page